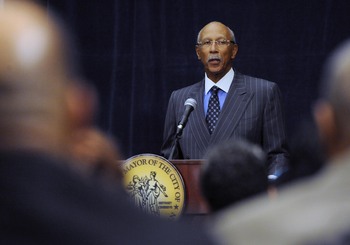 Applications for emergency manager are now available!
Detroit faces the reality of an emergency financial manager (EM). The Detroit Financial Review Team (pdf) has determined that a fiscal emergency exists in the City of Detroit. Problem is, there really isn't an emergency manager law in effect, per the repeal of PA 4 of 2011.
The review team concludes that there is a financial emergency, but there's a laundry list of problems that affect the process.
Repealed PA 4 of 2011
While the Michigan Court of Appeals revived PA 72 upon the repeal of PA 4, the concept of repealing a law and reverting the law back is a little dicey – as dead bills or repealed bills cannot be brought back to life (the Michigan Constitution says so). If you also refer to a swath of bills that Governor Snyder signed before the end of the year, there is a new emergency manager law (Public Act 436 of 2012), but it doesn't take effect until March 28, 2013.
In view of the repeal of PA 4 (2011), I don't think PA 72 should be reinstated, because it's not a true legal option. Because what happens to PA 72 when PA 436 takes effect in late March?
Detroit's last chance
As Detroit carries nearly $200,000,000 in debt, it doesn't look like it can cut its way out. The EM plan in PA 436 (2012) doesn't exist until the end of March, which means the city has one final shot to take care of things themselves before other options become available. Could Detroit employ a sequestration model for the city, as the nation faces a debt crisis of its own? Sequestration may be the only way we will ever cut spending at the national level. Maybe we could we have a federal EM?
Audit Everything
What do we do about Detroit in the coming months? What do we do about the nation in less than 2 weeks? I propose an EM for both.
Detroit will have an EM for their city budget, and the nation's EM will audit the money they sent to Detroit. It's no secret that Detroit is cobbled together with federal funds on so many levels. And if Detroit's own accounting is so poor that they can't figure out the police staffing numbers, you can guarantee federal money is lost by the truckload.
You want to find the wasteful spending from the federal point-of-view? Start at the city level. Get the state to release how much of their funding for agencies come from federal dollars, or how much school districts lean on federal grants to cozy up their numbers.
Let's get honest about the state of our finances, in both the city and the nation.