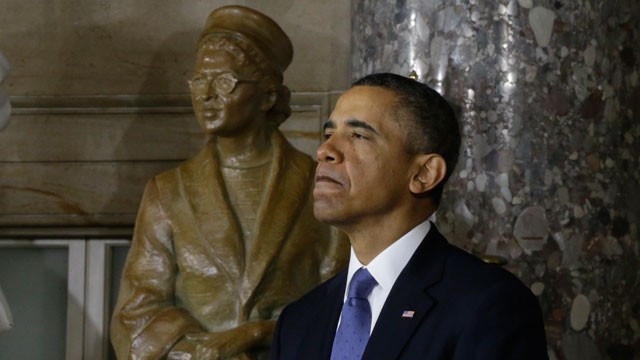 If Barack Obama's promised hope to be a national unifier was an illusion, his personal significance to this country can never be underestimated. For all of his failings as a leader, Obama's re-election re-enforced America's pride in their first black president.
That history was on display in Washington today as Obama unveiled Rosa Parks' statue.
The first black president honored the first black woman to gain a full-length statue in the Capitol's Statuary Hall – 58 years after she refused to yield her seat on a segregated Montgomery bus (the bus is on display here in the Henry Ford museum). That's a powerful and enduring moment for a nation that has bulldozed its segregated past in two generations.
"Rosa Parks's singular act of disobedience launched a movement," said Obama. "The tired feet of those who walked the dusty roads of Montgomery helped a nation see that to which it had once been blind.  It is because of these men and women that I stand here today.  It is because of them that our children grow up in a land more free and more fair; a land truer to its founding creed."
Powerful stuff. The stuff American dreams are made of.